Amazing cenotes in Valladolid
Valladolid and the Cenotes
 Valladolid is a charming little town on the Yucatan peninsula. The town doesn't have much to offer but it is quite cosy. Its main square, its market, several of its streets and the number of cenotes that surround it make this town a special place.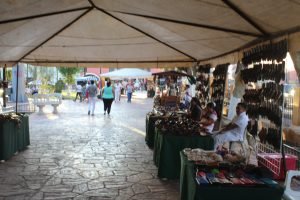 The hostel we stayed at is called La Candelaria and we recommend it immensely. It is a large hostel with lots of green space in its garden and a spectacular atmosphere that made our stay much more pleasant.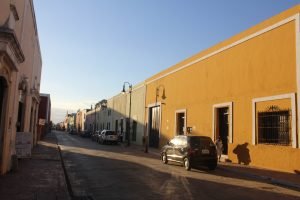 I like the squares in the cities very much and this one, in general, had quite a lot of life. Seeing children playing, people selling typical things or older people chatting gives that magical touch to the towns.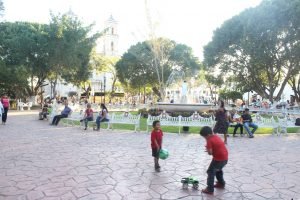 We also decided to visit the Convent of San Bernardino de Siena. Built in 1560, this convent has a chapel, a church, an atrium and an orchard. In one of its gardens, there is an imposing architectural work, the waterwheel, a hydraulic structure built over a cenote located in the subsoil of the convent, which was a source of water supply for the cupules (ancient settlers of the area).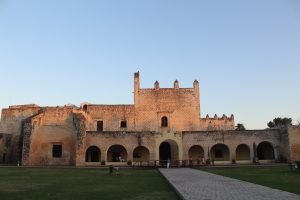 Less than an hour's drive away you can reach Chichen Itza, (read more about these Mayan ruins) one of the main archaeological sites in the Yucatan peninsula created by the Mayan civilisation.
 Valladolid was my first contact with the famous Cenotes. These are natural pools of water that usually developed underground and for that reason are always located in caves or caverns giving you breathtaking scenery.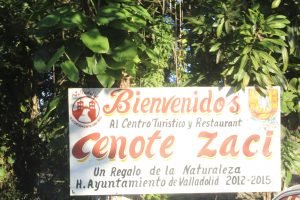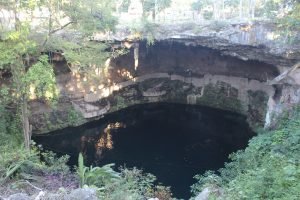 The first one we saw was one called Zaci and we found it most curiously. We had already asked about this cenote and decided to go out and look for it. We were walking down the street and suddenly we saw a restaurant which we decided to enter. The surprise was great when we realised that at the back of the restaurant there was a precipice of about 7 metres followed by water and decorated by several stalactites and rock formations, simply impressive. We decided not to bathe in this cenote as we had been recommended better ones and although it was not very pretty compared to the ones we saw later, it was quite spectacular to find this jewel of nature in the middle of the city.
 We also decided to visit the cenotes Agua Dulce and Palomitas, which are also located approximately half an hour from Valladolid. These two are highly recommended as they are caves. To enter the cenote Agua Dulce you have to go down some stairs and the inside is practically dark (I couldn't take very good pictures in this one as even the only base is full of water).
 In Palomitas, you must also enter a kind of cave and once you are inside you will be very impressed because there are only a few rays of light that impact perfectly on the azure blue water.
 I couldn't get enough of being in the cenotes as each one has a different landscape and visual impacts you too much. We decided to rent some bicycles and go as a group to another one called Samula. Nearby there was another one called Dzitnup but we didn't go to this one.
 It is said that there are more than 3.000 identified cenotes in the whole Yucatan peninsula, we only went to 5 and it was a real pleasure.
What to do in Valladolid:
Staying at the hostel La Candelaria
Visit:
Central Park (Francisco Cantón Park)
Cenote Agua Dulce and Samula
Convent of San Bernardino of Siena
Chichen Itza (I recommend going to Chichen Itza from Valladolid, as it is a very touristic place, it is better to arrive early and this is the closest town).
https://www.youtube.com/watch?v=1_lSHj2k9dU