Talking with the Locals – Semuc Champey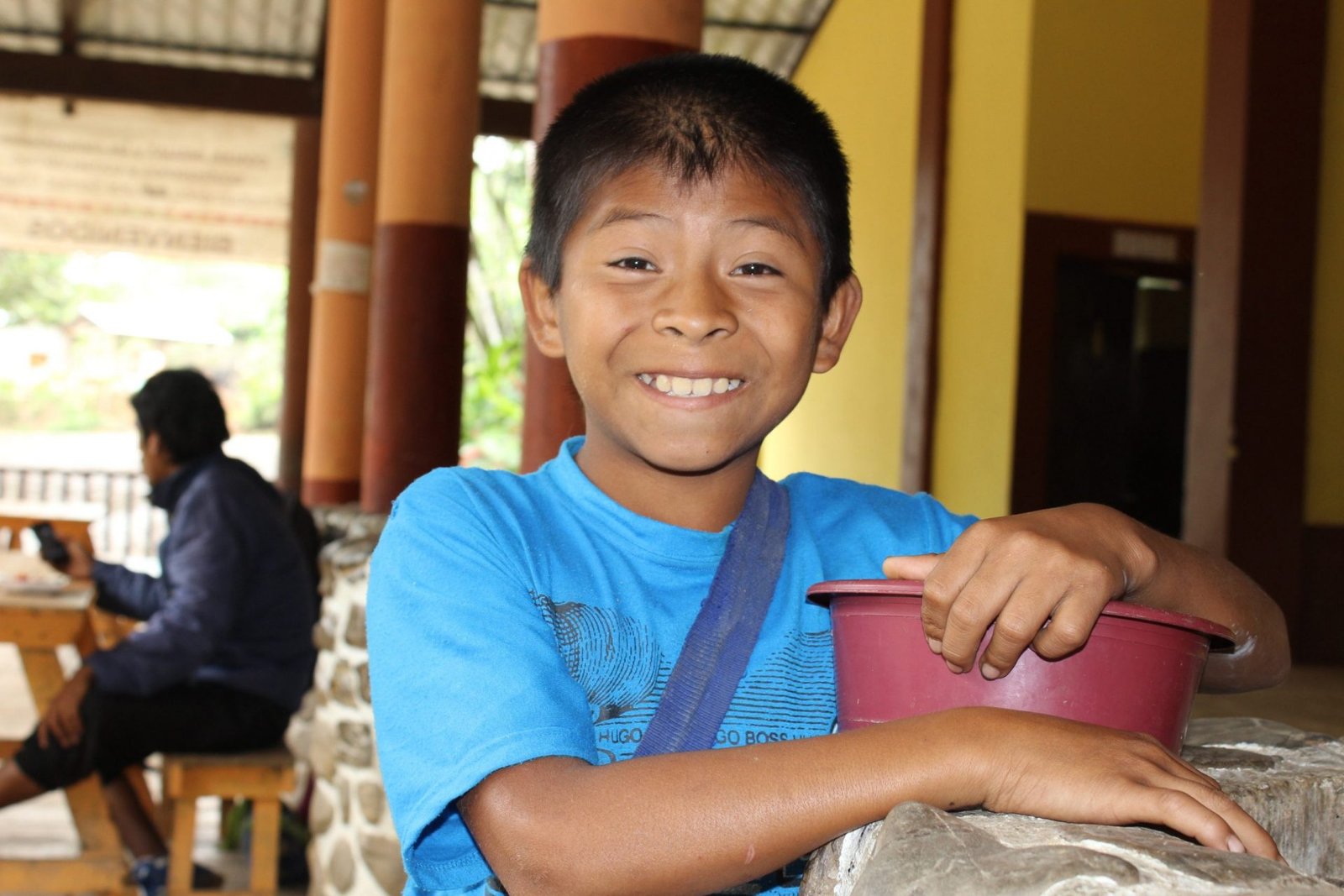 Talking with the Locals – Semuc Champey, Guatemala
As beautiful as Semuc Champey was, what made our experience there special was getting to know some of the local people. Guatemala's indigenous population is very large; over 22 (http://www.oas.org/children/members/guatemala_idiomas.html) languages are spoken in total. In Semuc Champey, the first language of most of its inhabitants is Maya Q'eqchi. They learn Spanish in school and use it to talk to tourists or other outsiders, but amongst themselves, they communicate completely in Q'eqchi – to us completely incomprehensible and fascinating.
As we ate our sandwiches near the entrance to Semuc Champey we chatted with the children who were there helping their parents by selling homemade chocolate. In English they wanted to know "What is your name? Where are you from? Where are you going tomorrow?" and did we want to buy chocolate "2 for 5 quetzales!". The majority of foreign tourists that pass through the area speak English or Hebrew and the kids have picked up some phrases from them. They obliged us with some lessons in their native language and laughed as we tried to pronounce some of the Mayan phrases they taught us.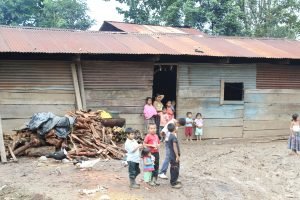 Later on, when we returned starving after our excursion in the caves, we got to know the parents of some of the children and the owners of the food stand: Marcos and Luisa. The land that Greengo's hotel is located on used to belong to Luisa's father before he sold it. Their house sits on a piece of land next to the hotel but is separated by a huge fence, still, under construction, that will eventually completely block their house from view. Greengo's is constructing a parking lot on the other side of the house, leaving Marcos' family a small path to reach their house from the street.
From speaking with other tourists like us, Marcos knows that there is a demand among travellers for more affordable food options in Semuc Champey. After enjoying a delicious plate of food for 20Q (2,6), Marcos invites us to stop by his house later that evening to visit and enjoy a small meal.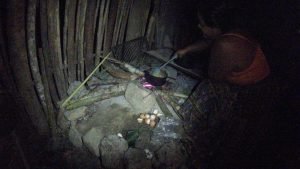 Around 8:30 later that night we leave our hotel with our flashlights to head over to Marcos' house. We pass through a part of the fence that is still unfinished and walk across a small patch of land toward his dark house where only a few candlelights are visible. The contrast between the hotel and Marcos' home could not be more startling. We go from a completely modern hotel with electricity, running HOT water, big-screen TV, and tourists working on their laptops to a one-room house: dirt floor, no electricity, no running water, and chickens and skinny dogs sharing the living space with a family of seven.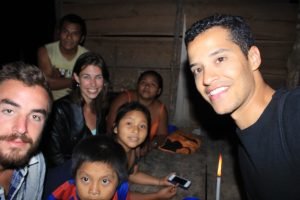 Two of the middle children, Ilsa and Manuel, greet us and Luisa prepares a meal of scrambled eggs, black refried beans, and corn tortillas which we graciously accept. A few minutes later, as we're asking where the other children sleep (we only see one bed), a head pops out from a loft area above us; it's Elvia, the 2nd oldest who is already in bed for the night (a bed she'll share with 2 of her siblings).
As we share dinner with the family, Marcos tells us more about their life. They wake up at 3 am every morning to prepare the chicken, tortillas, and the rest of the food that they will sell at the entrance to Semuc Champey which opens at 8 am. Unlike some of the other children in the area, his kids go to school 5 days a week. They walk with the other neighbourhood children for an hour to get to the only school in the area. This will be his oldest child's last year in school, at 14 years old.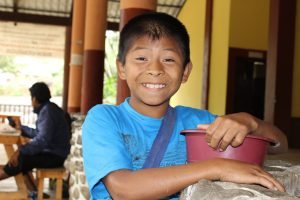 We're told that there's very little work in the community and that they've sometimes had problems with theft because of this. At one point, the stone mill that Luisa uses to grind corn to make tortillas was stolen from their house when Marcos was away in another town. They had to spend more than 500Q (?$) to replace it, a huge sum. For some people this experience might have created bitterness and distrust, however, Marcos talked about the situation with compassion for those who took it. To him, the cause of the theft was the lack of employment opportunities. This attitude was typical of the way he spoke of many things that day.
After hugs and pictures and well-wishes for the family, we set out on the dark road with our flashlights in the direction of El Portal, another hostel where we were meeting some friends we had met that day. Marcos accompanied us part of the way as he was going to a political meeting at a house along the way. The house where we left him was a truly impressive sight. At least 100 people were gathered in and around the house situated along the dirt road in what you might call the middle of nowhere, lit only by candlelight.
We feel so fortunate to have shared time with Marcos, Luisa, and their family and to learn a little bit of the Maya Q'eqchi language. If you make the trip, make sure you try some of the delicious food that you can find at the entrance to Semuc Champey every day from 8 am-6 pm, or stop by to say hello at the house directly next to Greengo's hotel on the left.