A very gothic city Ghent in Belgium
Gante, Belgium
 After having finished my trip to Amsterdam and having spent a whole day in Bruges I set off with my friend Tatiana to a very gothic city: Ghent. As it was already dark we decided to go for a couple of Belgian beers, obviously taking the opportunity to see a bit of this beautiful city by night.
 The next day Sarah came to Ghent. She is another friend I had met a couple of years ago in Mexico while I was travelling through Central America. It changes the experience in a country or a city when you are with locals and even more so if they are people you have known for a long time and you can call them friends. Now I had not only Tatiana but also Sarah and between the two of them, they showed me Ghent through their eyes.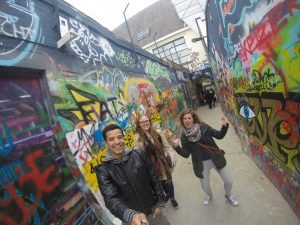 Ghent was my favourite city in Belgium, I didn't visit that many. There were only three. Its architecture is somewhat similar to that of Bruges but this city seems frozen in time. Ordinary buildings can only be seen outside the historic centre and inside you can only see beautiful gothic or baroque buildings that adorned the whole city. Fortunately for me that Tatiana studied something related to arts and knew a lot about the style of the city and was telling us stories related to this topic.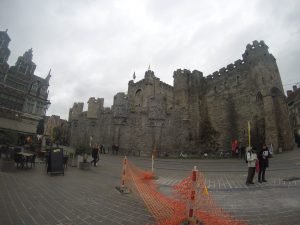 We visited the Castle of Los Condes located in the centre of the city. This castle served as defence and security for the Counts of Flanders who lived there and now you can visit it and appreciate the various objects of war and torture that are still there. The view of Ghent from the top of this castle is exceptional.
 Then I took the train from Ghent to Brussels, the capital. Many people had already warned me that there was not much to see in this city but as always with these tips. It is always better to have your point of view. They were not so wrong after all. After having done the walking tour of the city I had a better idea of what Brussels was like. Its main square is quite beautiful as are the buildings around it. The guide told us that it rains almost 250 days a year in Brussels and that day was no exception.
 In the afternoon I met my friend Ysé. She is a Belgian I had met before in Medellín at the central station and as a strange thing where they were offering free beer samples very close to the exit. Ok… why not? Then we visited the famous café-bar Delirium. There they sell more than 3000 different beers. The place is very big and has a great atmosphere.
 The next day I went to visit the places I still wanted to visit in the city. I walked a lot again but still, my impression of the city did not change much.
 – In general, capital cities always tend to hurt their beauty and Brussels was no exception.