The biggest market in Central America: Chichicastenango
Chichicastenango
Chichicastenango, or Chichi as it's known by the locals, is a small townhome to what's said to be Central America's largest artisan market. The market, held Thursdays and Sundays, is the perfect place to buy handmade goods, and also to experience indigenous culture.
The market stretches for blocks in each direction from the main church of Chichicastenango, a beautifulful white building upon whose steps you'll find vendors, beggars, tourists, and indigenous women giving offerings with incense and fire.
In the market itself, you can find any kind of handicraft you might imagine. Especially beautiful were the multicoloured blankets, table cloths, and clothing sold by women dressed in their traditional clothing.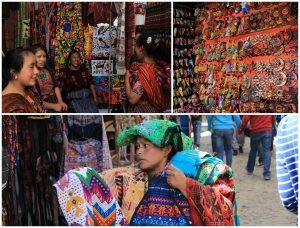 Be aware that the first price given is AT LEAST double, but often three times, what their final price is. Bargaining is a must! The vendors are mostly shy or annoyed with having their picture taken, but if you buy something and ask nicely they may permit you.
In addition to the market, the town's colourful cemetery located a few blocks away is worth a visit. Within the cemetery, several indigenous families were performing Mayan ceremonies. One man explained to Alejandro that he had come because his family is buying a house and needed to ask permission and forgiveness from the previous owners so that all would turn out well.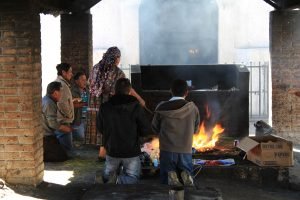 Getting there
We took two chicken buses from San Pedro de Laguna to Lake Atitlán for a total of 20Q. In front of the church in San Pedro (next to the market), take the bus that leaves every two hours from 6 am to 2 pm in the direction of Guatemala City (15Q). Get off at Los Encuentros and get on another chicken bus for the rest of the way to Chichicastenango (5Q). Do the same trip on the way back.