Frontera Corozal, Mexico – Guatemala
Border crossing Mexico – Guatemala. Frontera Corozal
We made the gruelling journey from Palenque in Mexico to Flores in Guatemala. Nowadays it is cheaper and easier to organise your own transport than to pay a travel agency to do it for you. However, as we had decided to go to Flores the next day and at the last minute did not have enough time to plan our trip, we were forced to pay a travel agency to help us with the logistics. We agreed to pay 350 pesos per person ($23.50 US) and they were going to "host" us in Flores, Guatemala. First we will tell you about our experience with the trip and then we will describe exactly how you can make the trip yourself and how much it might cost.
https://youtu.be/eJSpDITb-uk
The trip:
All the companies leave Palenque at 6:00 am and pick you up at your hostel for a price that varies between 350 and 400 pesos for the whole trip Palenque (Mexico) – Flores (Guatemala). We had already booked the tour and our driver never showed up so we had to go out and find someone else who organised the same trip leaving at 8:00 am for 400 pesos. They told us that all the agencies had already left and that they were going to do a special tour for us.
First they took us by bus from the village to the ADO transport terminal in Palenque. Then they told us: "When you arrive in Frontera Corozal, Francisco will be waiting for you. He will arrange everything for you". And then we got into a car full of people, none of whom were going to Guatemala.
After almost 3.5 hours we arrived at Frontera Corozal. The driver dropped us off by the river and said: "Ready, immigration is over there. You can walk from here". Then we had to tell him that we had already paid for the whole trip because it looked like he wanted to leave us behind and took us to the office. Then he said, "the guy will be here in a few minutes" at that point I started to get a bit nervous because I was already realising that we were going to get screwed and that things were not going the way they should. We immediately told him that we were not going to take the suitcases out of the car until the other man showed up and Francisco showed up after going to talk to some people.
Immigration is a piece of cake. There is one officer who seemed to fall asleep and we were the only people crossing the border at the time. We showed our passports and our FMM (Mexican visitor's permit) cards, and copies of our arrival flight to Mexico so that they would not charge us the tax which is 320 pesos. They didn't ask us anything else. "How many people cross this border daily?" asked Gianna. She said it varied. Sometimes 60 or 70 and sometimes only 5. That day was a mild day.
The boat that takes you to the technique takes less than 5 minutes. At least the guy driving assured us that he already had the money for our trip.
We crossed the river and then walked about 2 minutes to the office where we bought tickets to catch our bus which left at 12:30.
Half an hour later we stopped in Bethel at the immigration office while the bus was waiting for us. Again everything was perfect at the office. We were only asked to pay a tax of 40 Quetzals. When we said we had no Guatemalan currency we were told we could pay in pesos (100), in dollars (5) or pay on the way out of the country. NOTE: We said we were going to pay when we left the country but we never had to pay that. That rate is not real and they just want to rip you off.
After this point we start to suffer with the Guatemalan roads and the discomfort of the bus. The bus from La Técnica to Flores takes almost 5 hours in total. The first 3 hours are on a dirt road with a LOT of potholes and then after passing a village called La Libertad, the road is paved and the situation improves a bit more. Something very curious was that we stopped to fill the car with petrol and when the car stopped the same people at the station started to wash the car at the same time as filling it up with petrol.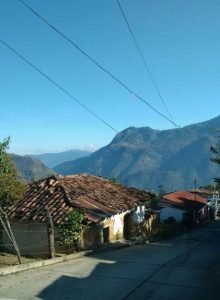 Our trip was supposed to go all the way to Flores, but the bus dropped us off in Santa Elena, a town about 10 minutes from Flores. We decided to change some money at the station (the exchange rate there is very good) and then took a moto-taxi for 15Q (2 dollars) to Flores, a small island connected to Santa Elena by a bridge.
Now, if you want to make this trip without falling into the hands of these bogus travel agencies and save yourself some money, here's how to make the trip from Palenque to Flores on your own.
Take a colectivo for 100 pesos ($7 US) Palenque-Frontera Corozal. Autotransporte Chamoán leaves every hour from a space next to the ADO bus station.
Tell the driver you want to get off at the immigration office. Once here you must have the FMM card you were given when you arrived in Mexico. If you arrived by plane you already paid the tourist tax which is 320 pesos and you don't need to pay it again. Print the receipt from your plane ticket showing the charges you are paying and you are done. This office is open from 8am to 4pm.
Walk from the immigration office to the river where all the boats are. It won't take you more than 2 minutes. There will be many young people waiting for those interested in crossing the border. This trip costs 50 pesos (US$3.50) per person to La Técnica, but you can negotiate this price.
When you are in La Técnica, walk a couple of minutes to the office to buy tickets for the bus that will take you to Santa Elena for 60 quetzales (US$8). Buses leave every hour, but the last one leaves at 14:30, so try to leave Palenque early.
Tell the driver you have to go to the immigration office in Bethel and he will wait for you.
When you are in Santa Elena, negotiate a price with a motorbike taxi to take you to Flores. They will usually charge 10Q ($1.30).
Total time = 8.5 to 9 hours
Total price = 286 pesos or $19.80 USD