Copenhagen, Denmark the start
Copenhagen
My journey began in Copenhagen, the capital of Denmark. My journey through Northern Europe took its first steps in this city and my desire to see the Northern Lights started to become a reality. Read more about the beautiful and incredible Northern Lights here.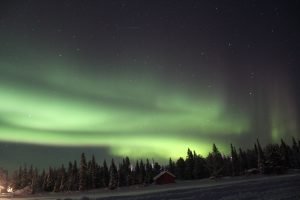 I found Copenhagen quite interesting because of the advanced bicycle culture and other things. I have not yet been to Amsterdam, which is supposed to be even more developed, but I was quite impressed with the city of Copenhagen.  There are more bicycles in Copenhagen than people, there are five times more bicycles than cars, and there is 400 km of bicycle lanes not shared with vehicles or pedestrians. The city has around 600,000 people. "BBC"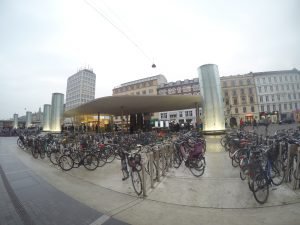 Fortunately, I had a friend living in this city who lent me her sofa where I was able to sleep. She lived with her boyfriend and between the two of them, they made sure that I had an excellent experience in this city. She was even able to get a bicycle for me to ride around the city.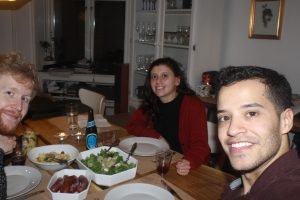 On the first day, after a long bus ride of almost 9 hours from Berlin, I arrived at their house and was greeted, and what we came to: We went to claim my bike and then ride around the city. Copenhagen is not a big city and you can cycle through the city in less than an hour from South to North or East to West. I find the city quite special. In this city, you can find beautiful buildings, palaces and many churches. Many canals run through various parts of the city, giving it a touch of authenticity and making it a beautiful destination to visit. Its cobblestone streets along the water and its magnificent houses are perfect for walking or cycling. The city is very clean and the people are very friendly.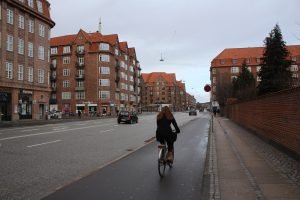 Copenhagen is a city with a lot of culture and activities to do. Initially, we took our bikes and headed to the city centre and visited various buildings.
 – This is a very small statue but it is perhaps the most famous tourist attraction in Copenhagen. It is a mermaid in the north of the city. It is famous because it has the same name as a fairy tale by a Danish author.
 – We passed through Nyhavn which is one of the busiest canals in the city.
 – Es actualmente la casa de la reina de Dinamarca. Es curioso ver que tienen guardias de seguridad que andan con armas y que tienen incluso protocolos para cambiar de turnos y para caminar.
me pareció muy bonita con una cúpula muy grande que le daba muy buen estilo a todo ese sector.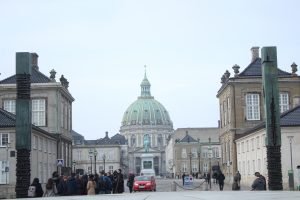 Then I decided to go alone on my bike and visit a curious artificial star in the north of Copenhagen. It is called Kastellet and is a 17th-century fortress with ramparts and a museum, usually hosting free events and concerts. The church on one of its corners is truly beautiful.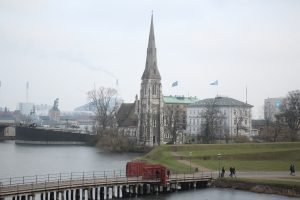 – Copenhagen has a beach too! It may not be the most suitable for a summer holiday but there is an artificial surface where people can go and enjoy the sea for a while.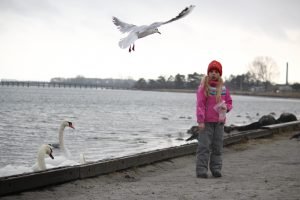 – The city has many museums for all tastes. My budget only allowed me to enter the National Museum and the Danish Art Museum, both of which were free! I was able to learn a bit more about the history of Denmark and the disputes it has always had with the other countries in Scandinavia.
One place I found quite curious was a place called Christina. This place has been around since the 70s. The place used to be a military base and then it was taken over by hippies. Since then this place became an open drug store. I could observe any kind of drug being sold without any problem. The government has won several legal battles to get control of the place but there is still a lot of resistance from the locals.
Many people decide to take a boat tour as well and it turns out to be a very good experience. I think a city with water around it gives its inhabitants a very different atmosphere.
The city also has a very old and famous amusement park. It is called Tivoli and in summer it turns out to be a light show. We couldn't see it very well because of the time of the year and because it was raining when we passed by, but it did look interesting. Nearby is also a very well known nightlife street called Vesterbro. There are many restaurants, bars and much more.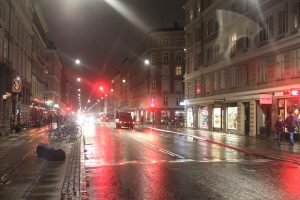 – It is the oldest working observatory in Europe. And via a long and strenuous walk to the top, it offers a panoramic view of the city of Copenhagen.
And as a bonus I leave you this short video cycling in Copenhagen