What to do in Medellin, Colombia
Medellín
 Medellín is the city where I was born and this is one of the reasons why I love this city. I have had the opportunity to visit around 40 cities and 10 countries so far and I have not been able to find a city that can offer you so much and in such a special way. The people play a very important role when talking about Medellín. Most of them are very friendly and always willing to help. Another reason that makes Medellín unique is that it is situated in a valley and is elevated at 1,495 m (4,905 ft) above sea level. This gives its inhabitants a perfect climate. The temperature of this city is normally in the range of 20°C (68°F) to 30°C (86°F). This is why it is known as the city of Eternal Spring. It is difficult to have a higher or lower temperature. The transport system is excellent. It will easily help you to get around the city (metro, tram, metro cable and integrated bus routes). The number of parks and green spaces offered for your comfort will also enhance your stay in this city. And as if that wasn't enough, the city is beautiful. Starting from the air when you fly over it or walk through its streets. The green of its mountains is the main protagonist of its beauty and this is what I miss the most when I am outdoors. "O liberty that perfumes the mountains of my land…" says the Antioquian hymn. The city was recently declared the most innovative city in the world and it has many reasons to be so. Medellín has been experiencing an increasingly positive change in its infrastructure over the last few years that has made its streets, neighbourhoods, transport etc. better than they used to be. better than they used to be. So welcome to this guide to Medellín.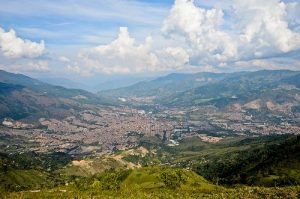 Medellín is a city where the transport system is almost perfect. The metro runs between the south and the north. And from the centre, the train goes to the West and the tram to the East of the city. That is why I am going to describe the main places and each of them will have a station that will be close to the point you want to visit. The places will be ranked from 5 (highest) to 1. (according to my opinion but you do the maths).
Places to visit in Medellin
 A nice ride on the cable car inside the metro cable. You can take it just to see the city or go to the last station: Santo Domingo, where you can get off and visit the España library. You can also enjoy the view from a viewpoint located in the library there.
 If you are tired of the smoke of the city and want to feel immersed in deep peace, Parque Arvi is the place to go. Located in the northeast of Medellín, this place will show you plenty of nature. The easiest way to get there is to take the metro cable at Acevedo station.
 Admission is free and it is a pleasant place to visit. Lots of greenery for nature lovers.
 If you have time and want to visit a very good and complete science park, this is the place to visit. The place has a lot of interesting things to learn. It also has an aquarium inside.
 There is not much to say about this one, if you are interested in astronomy you know where it is located.
 This park is not very beautiful but it has conditions that are used to create programmes such as concerts, film screenings and different kinds of events.
La famosa plaza Botero está al lado de la estación. Hay alrededor de 20 escultura de bronce expuesta abiertamente para todo el mundo.
 This is a place to visit if you like museums. You can find a lot of masterpieces that can be appreciated by your eyes. Some of Colombia's famous artists like Fernando Botero and Pedro Nel Gomez can be found in this museum. It is located very close to Parque Berrío station.
 This is a pleasant walk along with one of the main (non-car) streets of Medellín. The street is a famous avenue that was converted into a pedestrian street. Many people walk around Junín every day. There is something typical of this place and that is to see the grandparents sitting on the benches having a coffee while talking and watching the people passing by. If you are visiting this place I recommend you to have lunch at La Hacienda, which is a typical Antioquian restaurant.
Parque de los pies descalzos
 This is one of the spots where you can go to relax in Medellín and lie down on the grass. There are many bamboo trees in the park, which give it a very pleasant atmosphere. There are also several fountains which are usually frequented by families with their children on Sundays.
 This is a park you can visit on your way to Barefoot Park. The park doesn't have much to offer but the number of vertically positioned tubes can make for a great photo op.
 This museum is located next to Barefoot Park. It is not very big but it will show you various things about this natural resource.
 I like this place. Pueblito Paisa is a replica of a small village on the outskirts of Medellín, in Antioquia (the Department of which Medellín is the capital). In the main part, you can find a small representation of what the villages have. There is also a viewpoint where you can have a very good view of the city.
 Description of this place: Relax! no more. Many people usually visit this place on Sundays with friends or family accompanied by a nice picnic. There is a small skate pool for skateboarding or biking lovers.
 It is very close to the Industrial Station and although it is not very big, they usually have good exhibitions.
Unidad Deportiva de Medellin
 This is the sports centre in Medellín and if you want to stay for a long time in this city and you like sports this place may interest you. This sports unit also has swimming pools that you can enter for free (Check availability online).
Estadio Atanasio Girardot
 If you like football make sure you go to an Atletico Nacional or Independiente Medellin match at the Atanasio Girardot.
 This cable car will give you another perspective of Medellín, as it is located in the west from where you will have a very good angle to see the whole city.
 They are located very close to San Javier train station. From there you can take a bus or a taxi and it's about 10 minutes away. There is a lot of very artistic graffiti and the escalators certainly give the neighbourhood an innovative atmosphere.
Rumba y vida nocturna
 Located in the heart of El Poblado, La Strada is a shopping centre that has many bars and clubs that are a bit pricey. Be careful with your bill.
 This is probably the area where most people want to stay. Lleras Park is known as the Zona Rosa of Medellín and has many nightclubs and restaurants. It is without a doubt one of the main protagonists of the nightlife in Medellín.
 This area is a very nice place to party. There are not many tourists and the party is generally very good. The prices can be a bit high, both for the entrance fee and the liquor.
 There are many restaurants and bars in this park. Many people from Medellín, especially the "alternative" ones, frequent this park during the weekend to share a few beers with their friends. The atmosphere in this park is the complete opposite of Parque Lleras.
Special festivals in Medellin
 It is one of the biggest festivals in Colombia and everything revolves around flowers. The city is filled with joy and festivities everywhere. The main event is a parade that takes place on the last weekend of the festival and is called the Desfile de Silleteros.
Alumbrados del Río de medellin
 This is beautiful work that the city does every year. The Medellín river is filled with lights in different shapes along the river and it looks wonderful. It is visited by paisas and foreigners who are willing to watch while having a good time with friends.
Villages – Small towns near Medellín
 This is probably the best town near Medellín. Its location amongst the coffee plantations makes it perfect for coffee lovers. Jardín is located only 3 hours from Medellín and there are a lot of activities to do there. Horse riding, waterfalls, coffee plantations and many more. The church located in the main square is really beautiful. Worth a visit here.
Piedra del Peñol (Guatape)
 Guatape is a beautiful village located 2 hours from Medellín. Because there is a dam located in the surroundings, the village is surrounded by a lot of water and offers perfect conditions for a sunny day. You can go boating and do other water activities. However, Guatape's main tourist attraction is the famous Piedra del Peñol. It is believed to be a meteorite that fell there many years ago and now it is a big rock visited by many people every day. I highly recommend this place as you will have an amazing experience especially if you climb to the top of the rock. The view you will have is incredible.
 Santa Elena is a small village located 30 minutes from Medellín. The climate is colder than in Medellín (10 – 15) o C (55 to 65) F. This place is very famous during August due to the Flower Fair celebrated in Medellín. The "Silleteros" are the main protagonists of this festival who collect the flowers grown in Santa Elena and build a "Silleta" (a work of art made of flowers to be carried on the shoulders of the "Silleteros"). Besides that, the village is very quiet and it is great to find a good hostel or Finca to be immersed in the forest with yourself.
 This is a colonial town located in the west of Medellín. It is famous for its stone streets and the design of its houses. There is also a famous bridge called "Puente de Occidente" which was built more than 100 years ago. The climate is warm and you can find many fincas with swimming pools and a good atmosphere to relax.
 If you have time and want to do something more adventurous go to this place. It is a 3-hour bus ride from Medellín. Rio Claro is a nature reserve located in the mountains northeast of Medellin. It is famous for the colour of its river because as the name says, the colour is light. Its soil is formed mainly of marble and throughout the reserve, it is very common to find this type of rock. You can also practise many water and non-water sports on the river such as canopy, rafting, kayaking and one activity that I like is the visit to the Cavern of the Guacharos. To go there you would have to climb up a mountain and then go down. At the end of this journey, you will find a big hole in the mountain and you will have arrived at the entrance of the cavern. The fun is inside. The cavern has a river running through its floor and you will see many rocks with marble on the walls and all around. The cavern is dark but you can carry a torch.
 This used to be a famous summer house a long time ago of a very wealthy (illegally) man in Medellín. It was a zoo. The man brought many animals to Finca and enjoyed his good land with the animals. After this man died the Hacienda Nápoles was taken over by the regional government and today it is a museum/zoo which you can visit. If you go to Rio Claro, you can consider this place which is only 1 hour away from there.
Senderismo en Medellin
 This mountain is located in the north of the city and is perfect for a nice hike. It can take you 2 hours to go to the top. The path is decorated with many trees and lots of greenery. You can also delight yourself with a mixture of sounds between the birds and a small waterfall where you can even take a bath. The nearest station is Niquia and after you are there just ask the people and they can guide you.
 This place is located in the south of the city and is a good place to relax by the small river that runs through it. Many people go there on Sundays. Many of them usually cook and drink with friends all day long while enjoying and relaxing in the puddles.
 This is a tough test for those who like hiking. La Catedral is located in Envigado and used to be a very famous prison. The route is usually frequented by cycling enthusiasts every Sunday but is also available for a good walk.
I hope you find this information useful.