Amsterdam, the King's birthday!
Amsterdam – Netherlands
 After two of my best friends told me they were coming to Berlin in August 2017 and then going to Amsterdam, I thought it would be great to go with them to Amsterdam. At the same time, I was planning to visit a friend I have there. However, when I told my friend about my plans she told me that if I wanted to go to Amsterdam it would be much better if I did it for the King's Birthday in April. That Thursday was very special for the Dutch, especially for those who lived in Amsterdam. It was the King's birthday and the city would be celebrating in style. Faced with such a proposal I was forced to change my plans and book tickets for those dates.
 Amsterdam in Europe is synonymous with rumba, among so many things. This time I arrived in the city and my friend picked me up at the station, took me to her work and we waited for her shift to end. 3:00 pm on Wednesday and already the first bottle of wine of the day was being opened by a friend of hers in the office. That got serious. Well, it was just a little warm-up. Nothing serious. We left after a couple of hours for her house which was on the outskirts of the city. In the evening we started having dinner and then a couple of beers. The next day was going to be the king's 50th birthday and as usual, the day before people went out on the streets to have a pre-party. Nobody was working that Thursday.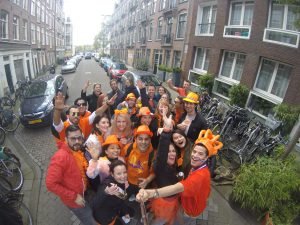 My friend had already booked and bought tickets for a Latin party she had been telling me about since she convinced me to go on these dates. We went with another Dutch friend, a Mexican guy and a Syrian guy. The disco looked a bit fancy from the outside. And inside, after walking through the door we found an incredible atmosphere. There was a very big room with a lot of people. The music was great and the mix of Latinos and Europeans was everywhere.
 The next day we were invited to a BBQ at a friend's house to start celebrating the king's birthday. The party there was also great. We had a beer pong table, barbecue, music and people from many countries. After 4 hours in that house, we went out to the streets around 4 pm where there would be stages with electronic music.
 – People are used to wearing all orange and the whole city was flooded with this colour everywhere.
 We stayed for a couple of hours at two electronic concerts and then around 9:00 pm we went to a disco bar in the city centre. I couldn't believe I was still standing. I was very tired but the atmosphere and the people I was with made it easy to keep enjoying myself. At midnight I finally went home to rest.
 The next two days were a bit quieter. I went out with my two Dutch friends to walk around the city and they showed me places that perhaps only locals know about. It was funny that when we were walking in front of the king's palace we met a lot of people and a lot of policemen. A couple of minutes later the king and his wife were getting out of a carriage. That night he was going to celebrate his birthday with 150 other people from Amsterdam who also had birthdays on that date with dinner.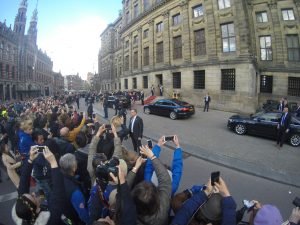 We continued our walk through the city and continued to enjoy the beauty of Amsterdam. The amount of canals is impressive and many of its streets end up looking very similar. The style of the houses is unique: narrow sloping houses, with a hook at the top to help you move around. Every corner, every street, every corner of the city centre is a postcard.
 We visited several places all over the city and we did a walk. We were in the south of the city in a market called Albert Cuyp where you can appreciate the Dutch culture. We walked past the front of Ana Franco's house which, as always, had a gigantic queue. We also visited many other buildings in the city centre.
 We were in the northern part of Amsterdam which is perhaps a place that many people skip on their visit to this city. We took the ferry and in a couple of minutes, we were there. Initially, we went up to the top floor of Adam's Lookout building. There are some swings there that generate tiny vertigo. My friend wanted to try it so we did. Nothing spectacular. But you could see the whole city very beautifully.
 This northern part of Amsterdam is a bit more alternative and artistic. My friend knew a small "organic cafe" called: Cafe de Ceuvel where there was a very good restaurant. I liked the place. The whole place is made out of recyclable products from an old boat harbour. This is a project they have been developing for a couple of years and the idea is admirable. You can also walk along several trails that have been laid out and you can see offices created inside small boats that are no longer useless. When we left this place we walked more in this part of Amsterdam and I liked to see so much artistic expression in the streets. Graffiti, activities, bars or very new things but without a lot of work generated a lot of fun. In a way, this side of Amsterdam looked like Berlin to me.
 – One fact is that prostitution is legal here.
 In the evening I wanted to walk around the Red Light District and get to know a bit of the debauchery that this city has to offer. For those who don't know, this is a place in the city centre where women in their underwear stand behind a glass door waiting for men who want to sleep with them. I had previously been to a Couchsurfing.com event where I met an Argentinian guy with whom I got on very well. We decided to go to the Red Light District together and walk through the streets. I didn't know what to feel when I was in front of the girls because I enjoyed seeing the beauty of the women but on the other hand, I thought that this was the only way they found to generate income. Their bodies were exhibited like objects and bought like any candy. I was curious and decided to ask one of them how much money they charged, to which she replied: 50 euros for 20 minutes. I don't pay for sex. But I kept the fact as general culture.
 – The king's birthday and Amsterdam were over for me. The next day I left for Belgium very early, so I had dinner with the Argentinian in a small shop and then on my way home.