The best place, Aurora Borealis
Northern Lights
Planning a winter trip started as a simple search for a place to go snowboarding somewhere in Europe. I never thought before that I would end up seeing something I had wanted to see since I was a teenager. So I decided to skip the snowboarding and made an effort to see the Northern Lights in the north of the planet. Exactly in Kiruna Sweden.
I opted then that December night to plan my trip to Sweden. In my case, it was possibly the "cheapest" place I could travel to. The Northern Lights occur only in the north and south of the planet mostly during winter. Sweden, despite being a very expensive destination, was offering me very cheap flights and I was able to find a hostel (kind of like a camp in the forest) for very cheap. So with my trip planned and everything ready I started my journey from Berlin.
 – My first destination was Copenhagen in Denmark, then I went to Stockholm in Sweden and then flew to Kiruna in northern Sweden.
From the moment the plane was landing I realised that I was arriving at a destination I would love. Everything was white when I looked out of the window. Snow took up 80% of my view and the other 20% were the trees still standing out against the thick snow. When I got off the plane, the ground was white and a thermometer at the entrance to the airport read -10°C. This was an excellent start and I couldn't have been happier. I stayed in a hostel camp called Camp Alta. The service was excellent. They picked me up in town and took me to a place located about 15 minutes from the centre of Kiruna. The place is spectacular and is situated in the middle of the forest, which makes it perfect for seeing the Northern Lights. The low pollution and the low light conditions make it easy to see this phenomenon.
Arriving at the camp I was very excited. I was given a small house where I would spend the next 3 nights. I had my cooker and heater. The camp had a huge lake that was frozen. It had two saunas, one small and one big. It also had a common area where people usually meet for barbecues and nice chats around a good campfire. Excellent place for my short holiday.
Being in the north of the planet and being in winter does not guarantee that you will see the Northern Lights. A clear sky will be what you need to see them well. My first night was not exactly designed to show me those colours I wanted to see so badly. The fog was very intense and the only thing I could see was a thick haze in the sky. I resigned myself to the fact that I still had two more nights and a lot more to do in the camp.
I decided to go into the sauna in the evening with some new friends I met who worked for Spotify. They were quite a lively bunch and I had a lot of fun with them. The temperature inside the sauna could reach approximately 70°C. The main activity inside the sauna was jumping into the lake (a small hole inside the sauna) with temperatures below -15°C and going out in the snow with temperatures below -20°C. With the people I had met, we decided to do both. We jumped into the lake and went outside the sauna.
Different sensations, not painful at all and a lot of freshness in the whole body.
I almost froze when I was in the lake, but the heat in the sauna was so much that you need that coolness.
My second day in this paradise would start with a snowmobile tour, after the previous day's beers my head was settling down to feel a bit of adrenaline. 9:30 am was the appointment in the changing room. Winter clothes on, helmet and goggles in place. We were a group of almost 21 people all on their bikes. I had paid the price to share the bike because it was cheaper, but as we were an odd number in total and I was the only one travelling alone, I got the bike all to myself. We went out to enjoy those white landscapes that I wanted to see and photograph so much. The sky was still cloudy and in many parts, it was impossible to tell where the horizon was because everything around you was white-grey. The bike I was riding could reach 100 km/h and the adrenaline I felt was quite a rush. I had never ridden such a bike before.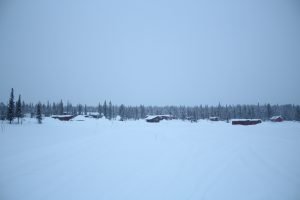 We were on our way to see a famous hotel made of ice outside Kiruna. Let's just say that the hotel is very nice but I didn't plan to pay almost 130 Euros to get in and do the tour. But this is where my luck continued. I opened a door just to explore and see what was there. There was no one outside and when I walked in there was only a girl talking to someone else. I kept walking and came across a church of sorts. On either side of it, there were some corridors which I walked down and before I knew it I was inside the hotel. The rooms were very nice, with sculptures in many of the rooms and a very unique style. I didn't have to pay anything and I was able to appreciate the place. We took the bikes and went back to the camp. More adrenaline and a spectacular sunset awaited us.
When we arrived at the camp, the Spotify guys were about to go out and do some Cross Country Skiing in the forest and I liked the idea a lot. I put on my skis and went for a run. The ski rental was only 10 euros for as long as you wanted. The scenery I could see was like a movie. Things that I had never seen before and that as a good lover of cold and snow I always wanted to see.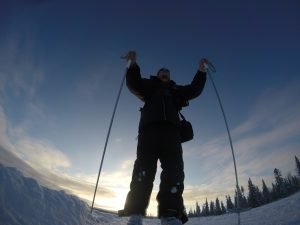 Trees covered in white
Snow that looked like dust
Snow up to the waist
Snow that hits you in the face
Snow and much more snow.
I looked like a child on the 24th of December opening Christmas presents. The trip lasted about 2 hours but with the scenery, you could spend the whole day practising this sport.
On the way back to the camp we were treated to a spectacular sunset and with it came a night that promised to be quite promising. The sky was still a bit cloudy but people kept saying that it was very likely that we would see them that night and the forecast on the internet also confirmed it.  So I prepared myself psychologically with the appropriate clothing to stay in temperatures of -15°C overnight waiting for the Northern Lights. I prepared my camera and all my accessories and went out. The sky was very cloudy, a little less than the day before but I still hoped I would be able to see them. I took a beer, a couple of candy bars, a torch and a piece of wood. I walked away from the camp and walked in the darkness that glowed in the white of the snow. I walked as far away from the camp as I could to avoid the lights of the houses and to be able to take good pictures. After walking for at least 20 minutes I found my space, sat down on the wooden log, put my camera on the tripod, put the beer to cool and waited for the longed-for northern lights to appear. It was about 9:00 pm but the sky was still very cloudy. After about an hour the sky cleared up a bit but it didn't take long before it was cloudy again and the chances were diminishing. A cold beer helped to calm my anxiety and to resign myself to the fact that that night was not going to be the right one and I only had one more night left.
I waited until 11:00 pm but the sky was very cloudy. So I had to "squeeze my butt" on the next day, my last day. I packed my things and went back to the camp.
Third day and last night in Camp Alta. I decided to get up early and walk around the camp a bit more while taking pictures. Near the camp were the dogs running on the sledges and they were about to go out and run with them. Craig was a guy from Scotland with whom I got on very well and we had been talking for quite a while about many things including his love and my love for photography. He is also in charge of clearing the way on his snowmobile so that the dogs can walk more easily. The dogs were ready, the passengers were ready and suddenly Craig said to me: "Do you want to go with me on the snowmobile in front of the dogs? (I didn't have to pay anything), my answer was given as he asked me. I didn't hesitate for a second and got my camera ready again. This time there was going to be a bit more adrenaline as I knew Craig's driving very well.  And so it was, lots more snow, lots of speed and adorable dogs running around like kids in the snow. What a great experience. The scenery was again spectacular and white was always the main colour.
The night came and again my longing to see the Northern Lights increased. This had to be the night. If I didn't see them that night a big part of my trip would be skipped as this was the main reason for my trip. The sky was much better than the previous 2 nights, at least I could see stars and as the night progressed more and more stars were appearing. The haze over the sky was not present and my longing to see those lights grew more and more. At 7:00 pm I set out to prepare my dinner with 2 more friends I had met from Australia. We had already checked the forecast and it was looking pretty good for the night so all we had to do was wait for the lights to appear in the sky. Around 8:00 pm while we were eating dinner a girl came screaming into the kitchen saying, "There are lights! We didn't think they were going to appear so early. The forecast said they were going to appear later but when I heard this, I grabbed my camera as soon as I could and went out to find a good spot to spot them.
I have to admit that I ran away, I didn't want to miss a single second of that show. I was taking pictures with a group of guys from Spain but then I decided to go somewhere else by myself. The Northern Lights are like a picture of your mum. No matter how you photograph it, it will always look beautiful. And so I think it did. I sat alone on the snow to observe the magnificent spectacle that life was giving me. The cold was no obstacle because my mind was so happy that I didn't let my body feel it. I walked back to another point of the camp and after taking more and more pictures I made the mistake of the night. I took off one of the 2 gloves I had on one hand because I wanted to take a picture with my mobile phone and it was so cold that I couldn't stand it even for 10 seconds. I tried to put the glove back on but it was too late, the cold was too much and no matter how hard I tried to warm my hand by putting it everywhere I could, it was impossible to do it. I had to go back to the camp. First I walked but the cold in my hand was increasing and then I had to run. My hand was numb and very red. I got to the bathroom and turned on the hot water but there was no hot water. My hand was very red and I had to take a drastic measure. I had to pee on it. The warm urine ran over my hand, giving me back the mobility I had lost and giving me more peace of mind. After all, I didn't regret leaving the place. The intensity of the lights had diminished and I was also thinking about going back to the camp. I went to find my two friends and share the experience. Dream fulfilled! I felt very happy. That night I slept happily!
The next day I left the camp and went to stay in a Couchsurfing house in the centre of Kiruna. My luck was not over yet. Zaida, the girl who hosted me, worked in a ski resort and told me that if I wanted, I could go to the mountain and that she could lend me her snowboard and that I could stay there for as long as I wanted. I am quite passionate about snowboarding and I didn't hesitate to say yes. Although the slopes were a bit easy, perfecting my performance on the snowboard made my experience much more valuable.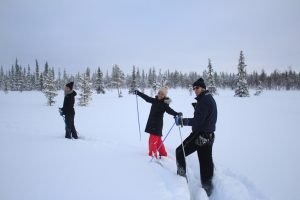 Night came again but this time I wasn't worried about seeing more Northern Lights, I wanted to explore some nightlife in such a cold and secluded place. I went out with Zaida's friends to a disco. The temperatures were too low, maybe -15°C and I can't explain how people can live there. The party was very normal, nothing special.