Wonderful Austin – Texas
Austin – Texas
I started my journey through the south of the United States. The idea was to fly from New Jersey to Austin-Texas, then New Orleans-Louisiana, Atlanta-Georgia and finish with Nashville-Tennessee and after the latter city, take a flight back to New Jersey.
Speaking of money, everything was very affordable, both in terms of tickets and accommodation. A tip for buying tickets is to buy them in advance and with cheap airlines, for accommodation, I highly recommend www.couchsurfing.org (FREE accommodation anywhere in the world), and www.hostelworld.com with a wide variety of hostels that will also help you a lot in your trip.
In other posts, I will talk more in-depth about accommodation and ways to travel cheaply in the USA, but let's get down to business for now.
Austin is the capital of the state of Texas. Located in the southwest of the United States, the city has a population of about 900,000.
The experience in this city is one of those experiences where your perspective of what you are going to encounter changes immediately on the first day, in a positive 360° turn around.
It was a city where I had a lot of fun and it is worth visiting again, you won't get tired of the city (the weather can be a little bit of a problem if you are not a fan of sunny days). There I had my friend Joaquín, a very nice person who has been living in Austin for a long time but was born in El Paso – Texas (USA-Mexico border).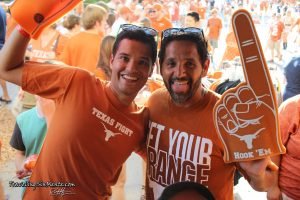 Because the city has one of the largest universities in the country (UT- University of Texas), there are so many young people living here that they have a motto: "Keep Austin Weird" and that's what they do. You can see people in unusual clothing and on and off the streets doing strange things. But that's what makes this city interesting.
In Austin, I started eating and ended up eating. It is very typical in Austin and some parts of Texas the BBQ and they are gigantic, my friend Joaquin took me to one that had recently come into service and it was delicious.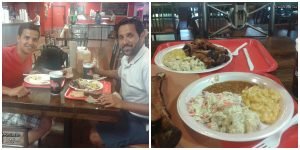 There are many things to do in Texas but one place that caught my attention and that I really liked was The Barton Springs. It is a natural pool with lots of green areas around it very close to the city centre where you can go swimming if you want, or you can go with your book and relax, even many people take advantage of the spaces to do yoga or other activities. Highly recommend this place to visit.
Afterwards, I had the desire to visit the Botanical Garden but "a hurricane had passed through" and took everything away because there was almost nothing to see, but well, here are a couple of photos of something beautiful that I could see.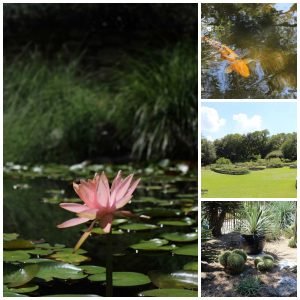 In the United States, the fever for American football is very big and in Texas, it is a disease. In the United States, there are two main American Football leagues, the NFL (which is the one I always knew), and College football. For both leagues, people are equally passionate and in Austin-Texas they have a very popular team called: The Longhorns which belongs to the University of Texas in College Football. So my friend took me to a tailgating before the first game of the season and it was great.
First of all, everybody is happy and many people have their private tents where they have TVs ready to show the game and prepare food and drinks. We had our "own" tent but there are also many public tents where they give you as much beer as they want (sponsors), and they also give you as much food as you want and those are the stands I like.
Seeing the people partying and the whole city united for the same cause was unique and I enjoyed it a lot, plus with so much free stuff I couldn't complain.
The nightlife in Austin – Texas has a lot of options and all of them are very good. The first night I was on 6th avenue, which is a street of about 6 streets full of clubs, bars and restaurants on each side with lots and lots of partying in all of them.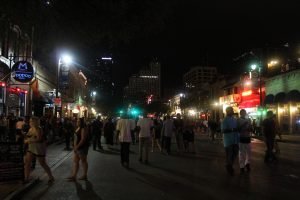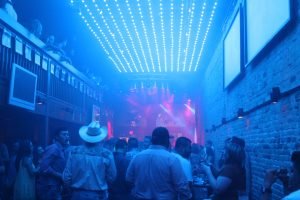 In this city, I saw a nearly naked woman walking in the middle of the street as if nothing was happening.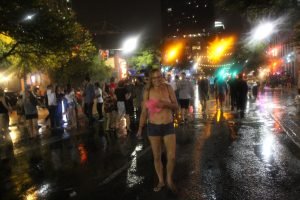 The city has many spaces for young people. Among them, there is a circuit that runs through the southern part of the city for athletes who want to cycle or jog. It is a very well designed circuit as it runs parallel to the river and while riding my bike I was able to enjoy the many beautiful things this city has to offer.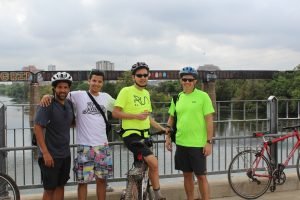 There is one activity that, although a bit strange, I enjoyed seeing and that was seeing lots of bats. Every day, when the sun goes down and night falls, thousands of bats come out under the Congress Bridge. The wait was from 19:30 hours for about 30 minutes, many people are sitting there waiting for the bats to come out and when they started to come out it was incredible to see the number of bats that came out in total.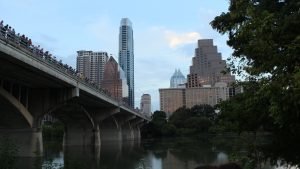 I liked the number of spaces the city has for young people, among them is this huge wall for people to go and graffiti whatever they want to be called Hope Outdoor Gallery.
I liked the number of spaces the city has for young people, among them is this huge wall for people to go and graffiti whatever they want to be called Hope Outdoor Gallery.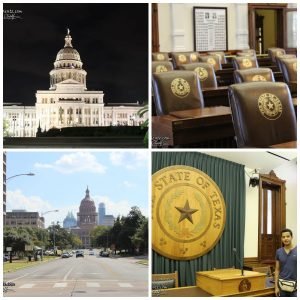 Finally, I visited the Texas State History Museums, which was interesting to see and where I learned a couple of things I didn't know, such as how much oil was being extracted in this region in the early 1900s.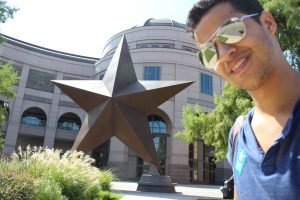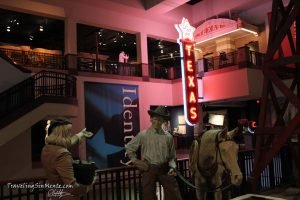 Recommended sites:
Bourbon Spring
Montar en canoa sobre el rio Colorado
Rumbear en the 6th streeth
Si puedes, ve a un partido de los Longhorns
Visitar las instalaciones de la Universidad De Texas
Visitar el museo histórico de Texas
Visitar el Capitolio
Ver los murciélagos en las tardes-noches
Comer BBQ
Ir a Hope Outdoor Gallery
Do you want to move on to the next destination New Orleans?