Visiting Mexico City
Mexico City!
Visiting Mexico City (or "DF" for Distrito Federal) was a really interesting experience as I grew up exposed to a lot of their culture through television programs I watched in Colombia. Once arrived we were welcomed by Lucas and Victoria into their home close to Potrero metro station. Lucas is a German that has been living in Mexico for almost five years and who now has a business selling German sausages from a special bicycle that he constructed himself. Salchicha Móvil (https://www.facebook.com/salchichamovildf), as the business is named, has been very successful and we recommend that you check them out on Facebook!
These were the highlights of our time in Mexico City:
The Metro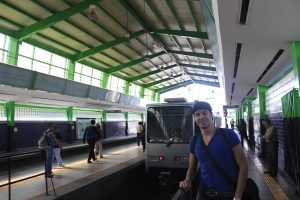 Mexico City is immense; it's said to have a population of 12 million, making it a complete monster. Once there, you'll realize that it has this many or maybe more. The traffic is very heavy; the metro is…well, the truth is that to talk about the metro would take another entry, but in conclusion, I would say that the metro is very difficult for the residents of the city and even more so for foreigners. Public transportation in this city is practically free! One train ticket costs 5 pesos or something like $0.33 US (it's said to be one of the cheapest in the world). One bus that we took for almost 30 minutes cost only 4 pesos. These prices reflect the newly increased price as just a short time ago a metro ticket cost 3 pesos. Even people who live in Mexico City say that the metro is dangerous, but nothing ever happened to us the many times that we rode it. It's true, once inside you'll realize that it's not very clean; something else that's strange is that it doesn't have air conditioning, but it does have windows that they leave half-open. I would say that it is pretty efficient regarding the frequency that the trains run since a new one arrives every 30 seconds (not exaggerating!), but each train arrives almost full. The most annoying and uncomfortable thing of all is that because of the bad economy that afflicts this country there is a lot of unemployment and all of these people without work turn to the metro to sell everything from a CD (they enter the train with the speaker at FULL volume) to bubbles, bringing onto the train soap and water and filling the car with little bubbles while they make their pitch. They sell you kitchen spoons, gum, books, and sewing supplies, among many other things.
The historic centre is surrounded by a lot of history which we began to discover visiting the Zócalo, located in the Plaza de la Constitución, the administrative centre of the city and where a magnificent, huge Mexican flag is always displayed. Walking around the Zócalo a little more you will begin to find many beautiful buildings that date back many centuries: The Metropolitan Cathedral, the National Palace, and the Temple Mayor Museum, among other government buildings. The Fine Arts Palace is also near El Zócalo. You can visit The Monument to the Revolution, the Angel of Independence, and the Cuauhtémoc Monument, among others just by walking through El Paseo de la Reforma (the main street in Mexico City) until you arrive at Chapultepec Forest where the Anthropology Museum and the Chapultepec Castle are.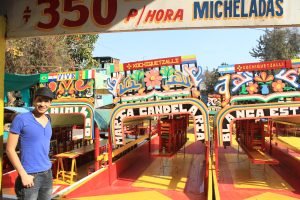 On our second day, we decided to go to Xochimilco. This is someplace really worth visiting as it is incredibly unique: the small town is built around a series of canals that you can pass through by taking a tour on the typical boats called trajineras. The best part is that there are many mariachis and norteña and banda music singers and they are always playing their music to one or another of the tourists that hire them. This was the first "business" we did with a Mexican negotiating the price of the trip in the trajinera. It started at 700 pesos and ended at 400 pesos (about $28 US).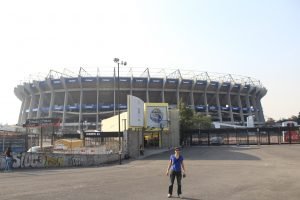 After this, we decided to visit the Aztec Stadium, the place where the World Cup final of 1986 was played. The stadium is huge, and although we were only able to see it from the outside it was a place that I always wanted to visit in Mexico City.
We decided to visit the Frida Kahlo Museum which is in one of the best neighbourhoods in Mexico City called Coyoacan, located in the south of the city. However, when we arrived we received the bad news that it was closed. Nevertheless, it ended up being a good experience as we met some very fun people from Tijuana, Mexico who had also arrived too late to visit the museum. We ate dinner together in Coyoacan and later walked through an artisan market that's located close to the central park. With them, we found out that the metro was "dangerous" and that as foreigners we shouldn't ride it. For example, even they (Mexicans) had not been able to ride it because they had been told that it was too dangerous. That same night they decided to experience a little trip on the train after I told them that it was very safe and that we had ridden it many times without anything happening to us. It was so much fun.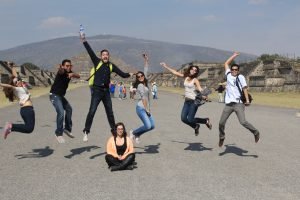 Teotihuacán is located 50 minutes away from Mexico City and it is worth the visit. You have to take the bus from the Indios Verdes metro station for 44 pesos. This was my first visit to some Ruins and I was completely impressed. You can see the Pyramid of the Sun, the Pyramid of the Moon, and the Main Square among other buildings. It is admirable everything that this culture was able to build thousands of years ago. We had fun from the beginning to the end and even climbed some of the pyramids. There is also a museum which you can visit for free inside Teotihuacán.
Located in the north of México City, this basilica is one of the most important places to visit for Mexicans, religiously speaking, since it is the house of the Virgen Guadalupe. The area as a whole is very impressive because there you can see 3 buildings in the same place: the Basilica, the chapel, and a museum. It is said that this is one of the most visited places for Catholics in the world after San Pedro de Roma Basilica. A lot of people usually go there around December 12th since that is the Day of the Virgen Guadalupe. Many people crawl there on their bleeding knees from different parts of the city, either to pay penitence or to ask for something from the Virgen.
 – Lucha Libre (wrestling)
http://youtu.be/HqjvssZgGwQ
This was undoubtedly a much-awaited moment for me. I do not consider myself a wrestling fan, however, I have always known what it means for most of the people in Mexico, so I wanted to know how they usually experienced that event. It was really fun but not that exciting. Nevertheless, it was worth it to be in La Arena Mexico (the famous arena where they fight) enjoying 5 fights. You can see the excitement of the people outside the stadium buying wrestling masks, shirts and many other things.

This is the musical heart of Mexico City. Many artists are performing different types of genres. There are many mariachis (famous Mexican musicians) everywhere and it is very common to see any man with his wife/girlfriend/lover hiring mariachis to sing for them. Music can be heard in all the sports around the plaza; there are even many clubs around the plaza where you can also listen to other types of Mexican music.